Every year, we draw names, twice. We trade names among "the kids" for a 'big' gift and then we include Mom and Dad and trade stockings. This year, both of my sisters' husbands lost their jobs so money was tight, to say the least. We decided that for the big gift we would only be allowed to give a service to the recipient. The stockings were to be white elephant gifts.
I drew Rachael's name for the big gift and EmaLee for the stocking.
I don't get to see Rachael very often so for my service to her, I made her a bag. Of all the bags I've ever made, this one was my FAVORITE! I made a messenger bag with two pockets on the inside, big enough she could probably put my brother in it and carry him with her. I didn't realize the finished product was going to be so big.
I found the fabric at Walmart and knew that Rachael would love it. I wanted to personalize the bag some so I decided that I would sew a R on the flap. I found a nice pink embrodery thread that I already had, found a font on the computer that I liked, printed a R, cut it out, traced it on the flap (after cutting it out and before sewing anything), and then hand embroidered the R.
The finished product was awesome! I still haven't mastered the closure process, so this bag doesn't have anything on it to keep it closed, but the flap is big enough that it's not completely necessary. Rachael loved it 🙂
I stretched the white elephant just a tad and used beads I already had, thread I already had, clasps I already had and made bracelets. I made one for each "major" holiday. It was a ton of fun and she really liked them all.
I made one more that she can use for any day of the year, including New Years, if she wants 🙂 It looks a lot like the black and white one I made with the red accents, but it's different. A little bit. This one also came with earings.
I had so much fun with my gifts this year, I'm contemplating Valentine's Day already!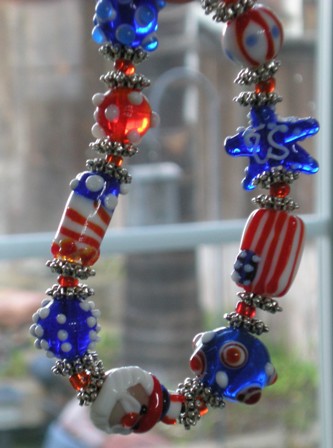 3 Responses to "December, Part 2, Crafts!"