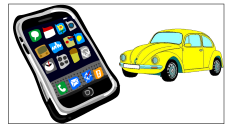 Today's cars are getting "smarter".  Cars have all kinds of technology to make our lives easier: GPS, Bluetooth, address book & calendar syncing, etc.
Here are a few things to think about when selling or trading in your car:
Remove saved places from your navigation system (especially your home address)
Remove all your mobile phones from listed Bluetooth devices
Remove contacts from vehicles address book (if your car saves them independently of your phone)

Reset your built-in garage door opener (you can find instructions in the vehicle's manual for resetting the garage door opener).

Perform a Master Reset

Most systems will have some sort of a "Master Reset" that should take care of most of this for you, but you'll want to double check, just in case.
This advice would apply to rental cars as well. If you link your phone with the vehicle's Bluetooth or use the in car navigation, make sure you remove your phone from the device list or perform a master reset.
We just purchased a used car. I started poking around in the system to learn it better. I found the previous owners home address, phone number, first name, and that she used an iPhone. I suspect that the built in garage door opener was also still programmed for her home.